Acoustic Troubleshooting
A Dirty Job, But Someone Has To Do It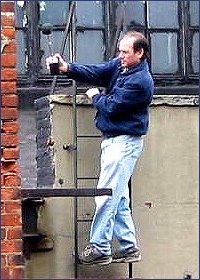 Acoustilog is a pioneer in Acoustic Troubleshooting. Finding the right solution to a noise problem is often a dirty job, which may involve squeezing into a ceiling (David Barton Gym), crawling under a machine (an elevator noise job), going up a thirty foot ladder in an Off-Broadway theatre (Charles Moss), measuring 120 dB sound levels (Circuit Night Club, Chicago), testing at night on a scaffold above a night club (Palladium) or arranging fiberglass panels in a dance club (Paradise Garage).
We didn't get the acoustic design job for a major women's cable TV network's studios. But when they were done building, there were major problems caused by bad design. That's when they called Acoustilog. Al Fierstein had to climb on the ceiling of the studios to photograph mistakes in design and construction, a thoroughly filthy task.
In a noisy penthouse apartment, elevator motors had no anti-vibration pads underneath, resulting in a major lawsuit. Of course, to see this requires laying on a grease-covered motor room floor. With 3 lawyers and the opposing consultant from one of the City's largest acoustic firms standing there in a jacket and tie, only Al Fierstein got down on his hands and knees and photographed the motor base and the space where the missing pads should have gone. The other consultant had already written a report saying the pads were installed. Obviously, this photographic evidence contradicted that report.
This is why we don't wear suits like the other consultants, who are unwilling to perform these vital, hands-on tests. But it is these exact types of investigations that give us the important edge in uncovering problems that often elude the hands-off acoustician. In each of the cases described above, we discovered the problem that another firm overlooked. We do not make it a point to educate our competition to their oversights. We instead prefer to keep it an in-house secret for the benefit of you, our customer.
---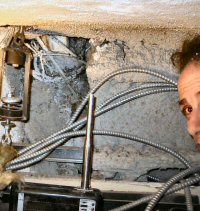 Case: The Late Show with David Letterman
The David Letterman show was considering completely rebuilding the basement audio control room, located under the stage where Paul Shaffer's Band plays, because of excessive sound leakage from above. After making a series of sound measurements, Al Fierstein determined that there might be hidden hole causing most of the problem. Al had the contractors cut a 12" x 12" hole in the dropped ceiling and he crawled in to find this small hole through the concrete to the stage above. After they sealed the hole, the sound engineer is now able to hear the music mix more clearly over his speakers, instead of through the ceiling. $100,000 saved.

More examples below



---