Testimonial Letters (Click on descriptions below, or scroll to read letters)
Attorney thanks Alan Fierstein for "well-crafted", "accurate", "persuasive" testimony.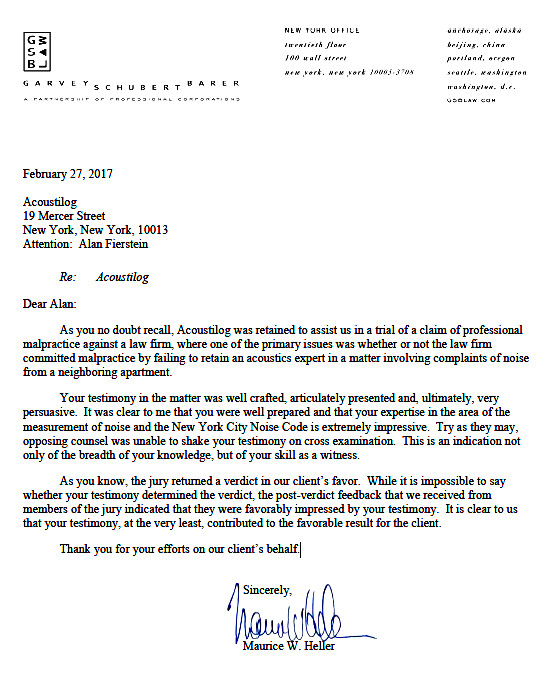 Back to Top
---
No one else could find the noise source, not even another consultant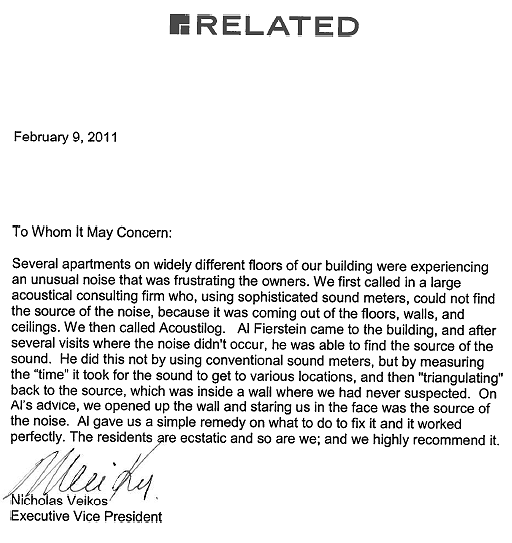 Back to Top
---
Client says "Thank you so much for the brilliant solution"
Dear Alan,

Just wanted to drop a quick note to wish you a Happy and Healthy New Year and to thank you million times for your help. Soundproofing work is finished, and I have almost forgotten that I have neighbors upstairs. It is at least 80-85% structural noise reduction and the airborne sound transmission is blocked 100%. It is marvelous, thank you so much for the brilliant solution.

Roxana
Roxana Sulica
January 13, 2021
Alan Fierstein represents restaurant owner at DEP hearing, helps get serious violation dismissed
Dear Alan,

"From the first call, Acoustilog was there to explain and guide us through the process of sound remediation. Alan's depth of knowledge, and innovative solutions to our issues were paramount to navigating and overcoming obstacles along the way."

See decision
[Manhattan restaurant owner]
April 21, 2022
Acoustilog's report "had an impact", Co-Op board looking into elevator noise remediation as a result
Alan:
Your reports had an impact. Thank you so much. We shall see where it goes.
[excerpts from condo board email below]
... The Board had decided to explore remediation efforts to address the noise issues that you have complained about.
... I know this has taken a long time and I appreciate your patience. I think the Accoustilog studies that you commissioned materially advanced the ball in persuading us to move forward, so I thank you for that.
... I assure you we are approaching this with good will and I am confident we can reach a mutually agreeable solution.
Name withheld
"First person to take our situation seriously"
July 12, 2017
We had been living for almost 20 years in our apartment when [the restaurant below] opened.
It quickly became apparent that the noise was an issue. We complained to the owner, the restaurant, the board, the NYPD, 311 and the community board but nothing got done. We looked online and saw that most similar cases rarely got resolved.
Our life became a nightmare. We had to play music loud during dinner to cover the noise, our daughters starting wearing headphones and our family life became strained and tense.
People that haven't experienced this don't understand. It's easy to dismiss "a little background noise". But the truth is that it quickly takes over your life.
And then you came. The first person to take our situation seriously. Your report was thorough and a validation of everything we had been saying for months. Your fairness, straightforwardness, attention to detail and your work ethic impressed my wife and I.
We can't thank you enough.
Sincerely,
Name Withheld
Cooling tower now "barely audible"
On 7/30/2019 10:31 AM, Steven Abramowitz wrote:
Dear Alan,
I just wanted to thank you as all our equipment is now installed on the roof and is barely audible to the point that we were not sure if the cooling tower fan motor was on! Excellent job!
Best
Steve
Steven Abramowitz
The Odeon Restaurant
Dance studio got a DEP re-test and passed.
Hi Mr. Fierstein,
Just wanted you to know that the 2 guys from the DEP came last nite to re-test. One looked at the limiter, took pictures of it..And then one stood by the stereo while the other went up to the tenant's floor. He knocked on the tenant's door and she refused to open. [It was] pointed out to the 2 DEP guys that the husband and son were standing outside in the street watching. He took the reading in the hallway and it registered 39. You could hear absolutely no music and that was just ambient noise.
The one in the studio told our manager that the DEP doesn't appreciate this tenant "stonewalling" them and using the Agency against us in an effort to not pay her bills. (At the hearing I produced copies of the tenant's last year eviction and this current one).
The DEP guy said he's sure we will not pay anything on this violation when we appear in March.
I'll keep my fingers crossed that we are done with them. Our landlord said yesterday was the court date for the eviction. I don't know what happened -- maybe postponed due to snow.
Thank you so much for all your help. As much as I enjoyed dealing with you since you've been nothing but a pleasure, I hope I don't have to call you anymore! LOL I'll tell you what happens in March when we go back!
Warm regards,
[name withheld]
Follow-up Letter:
Hi Mr. Fierstein,
I thought you would like to know the final outcome of the DEP violation.
After we followed your directions to resolve the noise problem, we attended the first hearing with pictures of the new speakers, the limiter and your report. At that time, we rescheduled another hearing so the DEP can take readings again. They came, the tenant refused entry, and they did measurements like you did, by tenant's door. Readings were below the acceptable level, so that was good!
We attended the final hearing yesterday and the fine was zero because we had complied, in a timely fashion, to fix the problem.
I'm so glad I found you on the internet and you took the trek out to Queens for us! You were always available to answer any question we had. Never had to wait days to hear back from you -- it was a pleasure!
Thought you'd be interested in hearing a good outcome!
Thanks so much for everything!
Best,
[name withheld]
Client had to convince Board that upstairs neighbor's children created a nuisance with excessive noise.
From Joya Stella May 29, 2009
Date 2007/03/08 Thur PM 08:00:51 EST
" Al Fierstein from Acoustilog is undeniably the sole expert in NYC for sound analysis and diagnostics in both residential & commercial spaces.
Al's decades of experience, coupled with his irrefutable scientific data is an essential tool for victims of all types of noise pollution. His ability to identify structural problems, as well as the ability to record and play back noise in a court of law are essential to tenants who must go head to head with their Board or management corporation.
Acoustilog was the only resource to assist me with my noise problem. Not only was Al sympathetic to my situation, but he also offered long term practical solutions for renovations and reassured me of my right to a habitable and quiet apartment.
In my particular case, an uncontrollable toddler was the source of nuisance both day and night; oftentimes until 1 AM. He was even able to measure the vibrations of my ceiling during the analysis. Al's scientific data in his acoustic report proved to the Board that my issue was indeed chronic, intolerable, and illegal."
" Anyone considering renovations or seeking to resolve serious noise issues with neighbors in multiple dwelling units should consult with Acoustilog first."
Joya Stella
Woodside, Queens
Back to Top
---
Client won harassment case with help from expert testimony by Alan Fierstein, including playback of calibrated recordings in court. Read excerpts from judge's decision.
From Robert Filippini
Date 2007/03/08 Thur PM 08:00:51 EST
Alan,
I want to thank you for your expertise and help in winning our court case. Your sound recordings and testimony were hugely effective in court and in helping us win our case. Thanks again, it was a real pleasure working with you. Take care. Best regards,
Robert
Back to Top
---
A client's thanks for helping him "stand his ground" in dispute with builder. Insufficient sound isolation was rectified at builder's expense and builder reimbursed client for the consultation fees.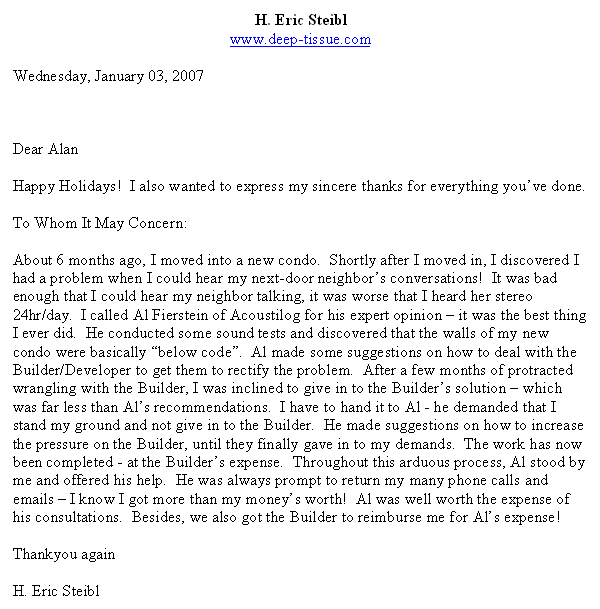 Back to Top
---
A client's thanks for expert witness testimony in a noise case. Click for full text of Judge's decision, including quotes from Alan Fierstein's testimony.
Back to Top
---
Comments from an attorney.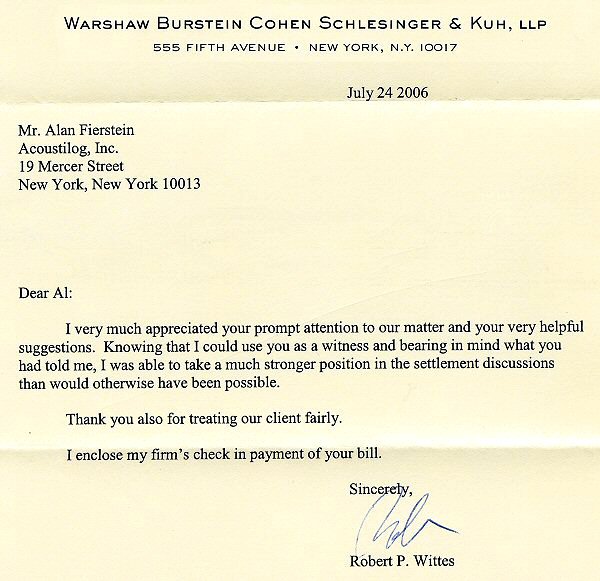 Back to Top
---
A successful resolution to a neighbor noise problem.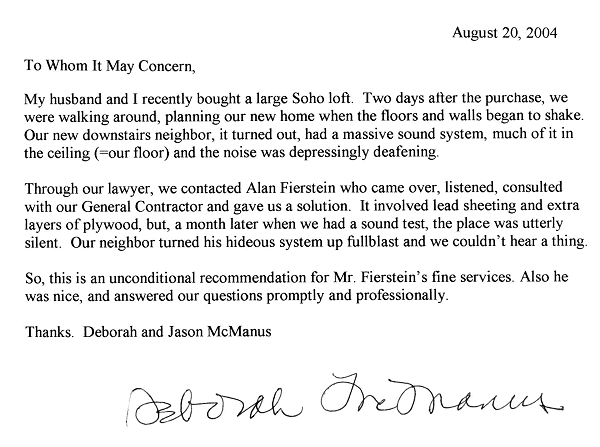 Back to Top
---
This residential customer thanks us for helping her "get her life back" .
Back to Top
---
Roof fan noise fixed, two tenants happy.

11/5/18

Our client, the building management company, received these two emails, one from each affected tenant:

Tenant 1:
.....Indeed, one of the contractorís team members came back three times to my apartment today to assess the kitchen fanís noise level while the fanís speed adjustments were being made. Finally, by 3pm the fan got very quiet. By the way, my bathroom fan is very quiet too now. What a relief! So glad we finally were able to find the right engineers who knew what they were doing. Congrats to all and thanks a million! Great job!
---
Tenant 2:
Yes. Just got home and happy to report that the kitchen fan is no longer making the loud noise. I ran into the contractors this morning and the lead guy said the noise was due to fan speed - they need to adjust the speed to get to the right level. I guess they've done the adjustments - now the kitchen vent is again the quietest vent in my apartment, and has good suction too.
This is very promising. Hopefully there will be similar improvements with the other fans once the work is complete.
Many thanks,
Residential customer says "You are the very best!"
Back to Top
---
NY City Council Member Gennaro thanks Alan Fierstein for his testimony re: the new Noise Code. Read More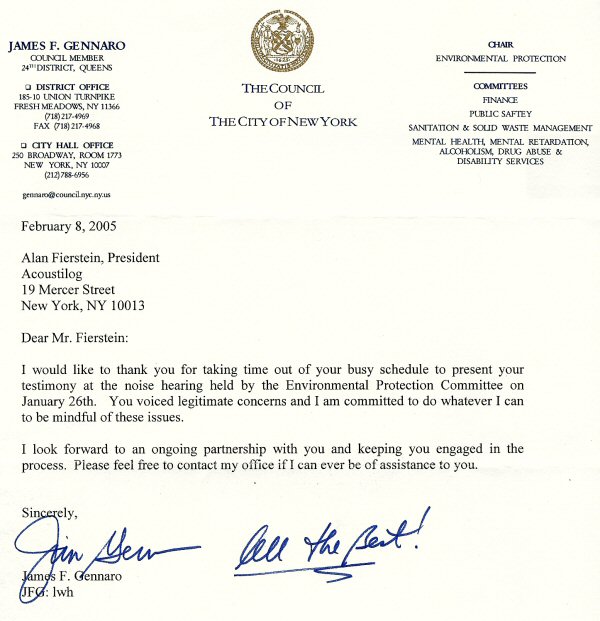 Back to Top
---
"Truly impressed"

5/10/16

Mr. Fierstein,

Thank you so much for calling me (and so quickly) with advice on my situation! You are a very kind man to give me free advice, and I do so appreciate it, sir! I am truly impressed. I would like to add a testimonial to your website, not sure how to do that so will enter it here so you may add it if you wish: "Mr. Fierstein impressed me with his honesty and integrity and knowledge that comes from experience."

Barbara Krull M.D.
"... never had another complaint"

9/12/2018

I just want to thank you. We were the people in Bronxville (2006 or 2007) with the two birds. We had a hard time getting the birds to squawk when you were here. We took almost all your suggestions and it made my neighbor very happy. We never had another complaint. My new neighbor grew up with birds and likes them.

Thanks for all you help.Glad to give you an endorsement. You helped us out a lot.

Laura
Webinar thanks.
7/28/10 Hello Mr. Fierstein,

Thank you very much for presenting an insightful and educational webinar.

Alicia Lakomski
Communications Coordinator
Responsible Hospitality Institute
Advice successful, "racket" gone.
Dear Alan:

After months of suffering from the racket of new noisy neighbors we followed you advice concerning noise abatement. The problem came from below our apartment so it was not the usual situation.

Your suggestions planning the layout, use of certain materials, and the type of contractor saved the day. (Space Carpenter was our contractor). No more noise from below!

Thanks very much for your personal understanding and your excellent professional advice.

Sincerely,

Robert Weisberg
October 26, 2012
Pump & piping replaced, "not a peep" anymore!
Dear Alan:

Just wanted to report to you that, as a result of your report, the manager called in a contracting company and had the pump replaced and the entire pipe assembly replaced with copper pipes and what else - in any case, the water is back on and there is not a peep from the walls! Last night was the first night that I did not wake up and stay up for hours from the thumping noise. He also said he would have the dryer worked on.

Best regards,

Inge Etzbach
March 10th, 2013
Co-op Board replaces antiquated boiler after Acoustilog noise tests

11/20/09 Alan,

Thank you for the help in evaluating the boiler system in my building. Living in my apartment had become unpleasant because of the horrendous noise caused by the old boiler. The thorough and detailed analysis that you performed was absolutely critical in convincing my co-op board to replace the antiquated boiler system. We now have a brand new, quiet boiler which has greatly improved the quality of living in my building for me and my neighbors. We appreciate it! I should have called you when I first noticed the problem instead of waiting for three months trying to convince the board myself.

Thanks!

(Name withheld)
Ventilation system that "shook light fixtures" now quiet
Subj: thank you!
Date: 5/17/2005 6:06:49 PM Eastern Standard Time
From: XXXXX@aol.com
To: XXX@acoustilog.com
May 17, 2005
Dear Mr. Fierstein
Thank you so much for your help and expertise! The ventilation system for the restaurant went from shaking the light fixtures in the back bedroom to a super quiet, almost inaudible purr. I no longer feel like I am living in a tunnel, and am happy when I walk in the door. I am so grateful for your clear recommendations and assurances that there was, indeed, a simple solution to a very unpleasant and persistent problem. I wish I had called you months ago!
I am also very grateful to you for your handling of the noise issues with the bar downstairs. You were incredibly personable, tactful, and practical, giving them very simple and relatively inexpensive ways to eliminate the noise problems and comply with the legal noise level limits as well as the noise level conditions in their lease. Your very fair and clear assessment of the situation, and the explicit step by step solutions that you proposed were enormously appreciated (As of yet, however, the bar has not followed a single recommendation, and I fear that I may have to call on you again to testify in court, although I hope it doesn't go that far.) If they would only follow your advice and invest a minimum amount of time and money the whole situation could have been resolved months ago!
Thank you again.
Sincerely,
Bethany Yarrow
---
Boiler Pump Noise Gone
June 12th, 2008
After unhappily living with the hum of the boiler pump in our newly renovated building for a full year, we could no longer bear the noise . Our apartment truly felt like a moving subway car; not a habitable environment.
So we hired Al Fierstein to come and take noise measurements and examine the building's boiler room. His thorough examination of the situation and research on possible solutions led to a set of measurements and recommendations that when presented to the building developers were unchallengeable by them. The developers brought the installation's plumbers back in and after a meeting with Al, agreed to create a new isolation scheme and redo a significant number of connections in the boiler room. These actions were all based on drawings and written details provided by Al.
When the boiler turned on again last October, our apartment was more quiet than we could have hoped for. All trace of the hum (which had been 10 decibels above the city noise code limit) was gone. Without Al's analysis we could never have gotten the building developers to agree to do the large job that was required to fix this unbearable situation And without his careful research and recommendations we certainly could never have gotten them to do it right. We can now live in and enjoy our home because of Al's fine work.
Scott Lehrer
Scott Lehrer Sound Design, Ltd
---
On the following job we were able to help the client avoid a fine and solve some other noise problems in their building.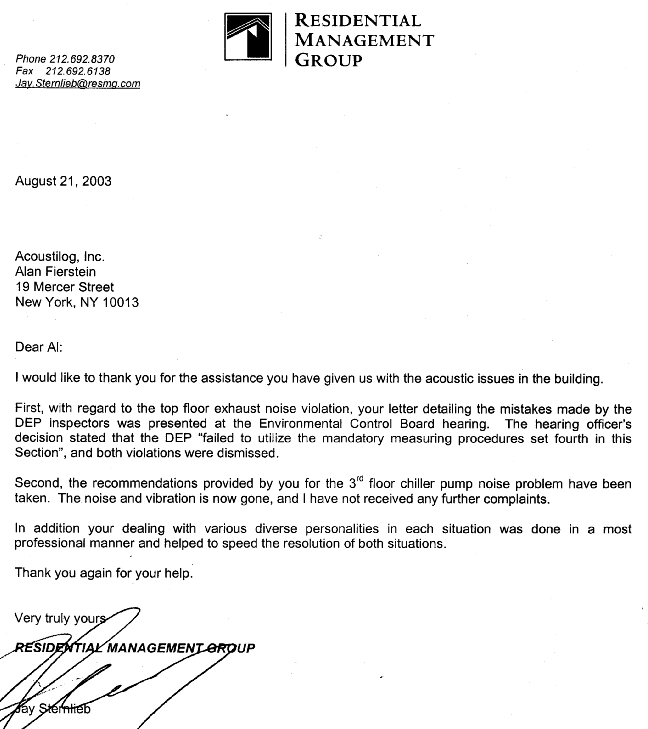 Back to Top
---
This is a letter from a client of ours who runs a Karate School (Dojo). They called us because noise from their classes was disturbing other tenants in the building.
Back to Top
---
Here is an email from a customer about a ceiling we designed, and a contractor we recommended.
Subj: thanks
Date: 9/10/02 12:25:41 PM Eastern Daylight Time
From: ???????@earthlink.net (Name Withheld)
To: xxx@acoustilog.com (Alan Fierstein)

Alan, We want to thank you for referring us to Chris Harmaty. We had him insulate most of our apartment. He's a great guy and he and his crew did a beautiful job -- in fact we're going to have him do our bathroom also.
Thought you'd be interested to know the result. There's been good reduction of most noise from upstairs, but the really heavy stomping of our neighbor (bare heels landing heavily on bare floors) though lower in volume is still somewhat disturbing as she charges through her apartment. I guess that without good floor covering in her apartment there's only so much that sound insulation in ours can do. Still, we're glad we had the work done, because most noise has been significantly reduced.
Thanks so much for all your help. It's been uplifting to do business with such competent and decent folks as you and Chris and his entire crew.
---
More E-Mails from residential customers.
2/26/2005
Dear Alan,
I can't thank you and your staff enough for providing superb professional services. Over several months you and your staff were patient in understanding my situation, and when finally the time came to measure the noise, you made every effort to accommodate me on a very short notice. Your report is not only technically comprehensive and educational but also includes invaluable suggestions. Anyone, who dealt with finding a knowledgeable and reliable contractor in New York City, especially in the very specialized field of soundproofing, will appreciate very much your recommendations. Your offer to make yourself available for an acoustical expert testimony in court if necessary is equally commendable (there is barely anyone in your field who offers such a valuable service that could be very critical during litigation).
I don't know how I would have managed without your help. Thank you for being one-of-a-kind.
Sincerely, Igor
---
Customer's son disturbed downstairs neighbors even though his "drums" were electronic pads. The stomping and pounding went right through the floor, until a contractor implemented our recommendations.
3/1/11
Hi Al
Nothing! That's what I heard when I went downstairs and my son played the electronic drums with the amp off (and he was pounding away). So THANK YOU!! Al, I highly recommend Custom Associates should anyone ever ask you, "Who can build me a platform like this?" They did a great job, and it's beautiful as well.
Really appreciate all the great work — our quality of life just went up a couple of notches.
Best,
Peter
---
A client thanks us in a case involving a proposed open air schoolyard and playground
10/29/2015
"Al's expertise and credentials played a key role in reaching a satisfactory settlement to noise concerns from a proposed development across the street"
J
---
Dog barking problem solved, neighbors still on good terms.
3/13/12
Hi Alan,
When we moved into our new NYC apartment we knew we were going to have to bear the heightened noise associated with life in an urban environment. However, what we did not bargain for was the two adorable non-stop barking pugs residing directly across the hall from us.
Our consultation left me optimistic that this was a manageable issue. Your insight and knowledge of acoustics was spot on, after further investigation you discovered that the noise was traveling between the small gaps in our front doors. We followed your recommendation and installed door mounts on both our neighbors and our doors and the result has been awesome. The sound traveling between our homes has been drastically reduced.
Thanks to you we are sleeping through the night and enjoying a greater sense of peace in our home. Also, important to note is that you helped us frame the "disturbing the peace" conversation with our neighbors in a positive and non-threatening way. The result has fostered a sense of open communication and friendship with our neighbors.
Thank you...thank you!
Rachel and Jeremy
---
7/28/06
Dear Alan,
You will recall writing a report for us on May 5, 2006 regarding our neighbor's air conditioning unit. I'm happy to say that she has had work done on it, which appears to follow your suggestion, and the noise has been reduced dramatically. Thought you would like to know.
Thanks! Gillian
---
Three operators of commercial establishments (a hotel, a dance club and a hospitality management company) write to thank Acoustilog for helping them with noise problems as well as Community Board and State Liquor Authority approvals.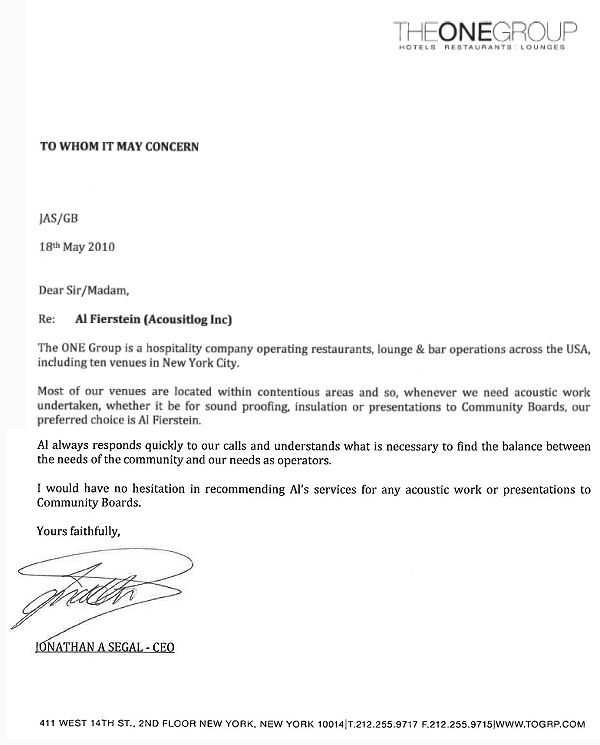 ---
Project studio owner who had previously been "taken in" by sales hype for ineffective acoustic materials says he'd have saved "one hell of a lot of money, time and aggravation" if he had called Acoustilog first.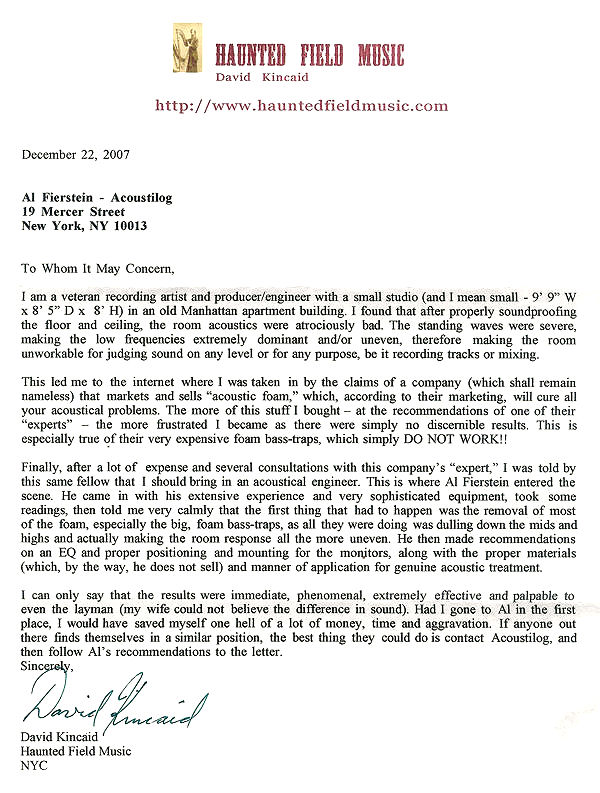 ---
Studio owner "would never use anyone else to tune again."
May 18th, 2010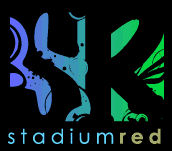 "Al from Acoustilog did a tremendous job tuning our A Room's Augspurger system. Before he came in the speakers lacked depth and mid range. After, they sounded balanced and unlike ever before. There was space, clarity and punch like never before. I would highly recommend Acoustilog and would never use anyone else to tune again."
- Claude Zdanow (Founder of Stadium Red Studios NYC)
---
---
College instructor thanks Al Fierstein for a presentation given to an acoustics class.
September, 2011
Alan Fierstein gave a lively presentation to my acoustics class, about not only the scientific theory and practice of working as an acoustic consultant, but also about the important of ethics and persistence in field research.
Mr. Fierstein provided several examples from his professional experience where finding the whole truth required detailed investigation. Rather than stopping when a few facts supported one side of an argument or another, he would get to the root of the issue: Even if that meant climbing ladders to measure ceiling sound transmission, crawling on the floor to measure floor sound transmission, measuring ambient sound levels days before and after a concert, (not just in the times between songs). Mr. Fierstein also provided examples of others in his field who may have stopped short of the truth, and showed how common sense must be applied to evaluating facts.
Mr. Fierstein set an excellent example for my students whether they pursue careers as engineers, consultants or researchers. I would be honored to have him speak to future classes, and would recommend having him as a guest lecture a range of courses, relating to business, ethics, scientific investigation and music technology in general.
Best,
Langdon
---
Langdon C. Crawford
Advisor & Instructor
Music Technology Program
NYU Steinhardt
---
---
Another college professor "praises" Acoustilog for the usefulness and longevity of the Acoustilog Reverberation Timer
October , 31, 2013
Just praise - We want you to know that are nearing 4 decades using our [Acoustilog] 232A Reverb timer for our architectural acoustics class. Thanks for the design and execution of this remarkable instrument.
Jeff Burnett
Assistant Professor
Construction Management
Washington State University
School of Design and Construction
---
Letter from a recent client for whom we did acoustic work as well as sound system troubleshooting and repair.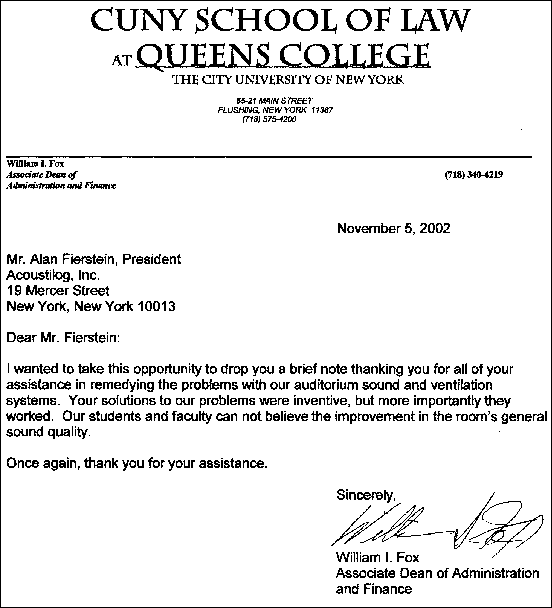 Back to Top