Home & Garden
---
Room To Improve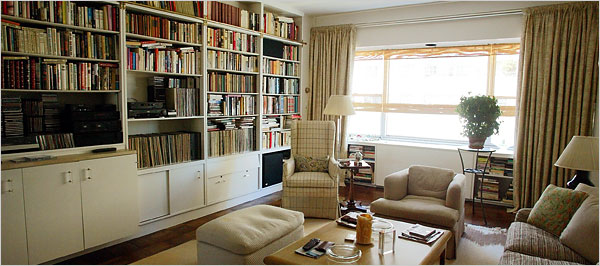 By MITCHELL OWENS
Published: November 2, 2006
Q. How can I muffle the noise from a neighboring apartment?
A. Dealing with ambient sound, whether it is from footsteps or your next-door neighbors' colicky baby, is one of the challenges of urban living. Unless you live in a prewar apartment whose walls are as solid as Fort Knox, you are likely to be privy to many events in your neighbors' private lives.
You can bring the noise problem to your neighbors' attention and hope for a friendly and mutually satisfying outcome. But truth be told, installing professional soundproofing is not very disruptive. You can do it yourself if you are handy, and if your landlord gives you permission.
According to the Web site of Super Soundproofing of San Marcos, Calif. (soundproofing.org; 888-942-7723), the easiest way to soundproof is to cover walls with mass loaded vinyl barrier, which can be stapled or glued into place. (Some versions come with peel-away adhesive backing.)
Once the barrier layer is applied, cover it with a layer of Sheetrock or gypsum board, then seal the seams and edges with lead tape or acoustical soundproofing caulk.
Three grades of the barriers are available at Super Soundproofing; prices start at $1.47 a square foot. A roll of self-adhesive lead tape measuring an inch wide by 50 feet long costs $18, and a 29-ounce cartridge of soundproofing caulk is $9.95. Super Soundproofing sells the book "Quieting in the Home," a reprint of an E.P.A. guide to noise control, for $15.
Soundproofing companies, including Acoustilog in SoHo (19 Mercer Street, 212-925-1365, acoustilog.com), offer other solutions, many of them relatively inexpensive, to implement with the help of a contractor or a handyman.
Acoustilog, which has created soundproofing plans for the tap dancer Savion Glover, the Dia Art Foundation and the architect Deborah Berke, provides an on-site consultation with Alan Fierstein, the company's founder and president. The consultation includes a measurement of noise levels to ensure that they do not exceed the New York City building or noise codes. (If they do, soundproofing may not be your financial responsibility.)
If you are unwilling to invest in professional soundproofing, ambient noise can be reduced with simpler methods. Lining a wall with bookcases, like those above, can help.
Tapestries absorb sound, too. Hanging a decorative rug from a rod would work (preferably something Oriental, rather than a flokati), as would investing in a traditional tapestry like those sold at the Tapestry House in Lewes, Del. (877-751-8438, thetapestryhouse.com). The Tapestry House carries reproductions of work by William Morris, the British Arts and Crafts pioneer, that range in price from several hundred dollars to more than $1,000; several sizes are available.
You can cover the walls with a sound-muting fabric like felt, and trim the stapled-down edges with grosgrain ribbon or decorative braid. This solution was a favorite of the French decorator Madeleine Castaing.
The Felt People in Bloomingdale, N.J. (800-631-8698, thefeltpeople.com) sells hundreds of colors of felt, starting at $5 a yard for synthetic and $13 a yard for wool. Both are available in 72-inch widths.
The company also offers a wall covering called Tempora, a pure wool felt that starts at $45 a yard; it is available at a preshrunk width of 60 inches in 20 colors, including moss, pewter and fawn.